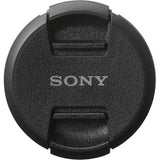 ALC-F49S 49mm Front Lens Cap
1
1. Prices indicated refer to Suggested Retail Price which includes GST and may change from time to time without prior notice and/or may vary for the same product with different colours.
* For orders placed before 2pm on Monday - Thursday excluding eve of public holidays. Next day delivery may not be applicable for products listed under Televisions and Home Cinema. Please expect a phone call after placing your order for arrangement of the date of delivery. For more information, please refer to our Online Shopping FAQ
*Services availability depends on region. A part or whole of software/services installed into or accessible through the product may be changed, discontinued, removed, suspended, or terminated without notice.
Overview
Delivery Information
Overview

ALC-F49S 49mm Front Lens Cap

Delivery Information

How much does delivery cost?

Sony offers free deliveries for orders $100 and above. For orders below $100, a standard delivery charge of $2.90 will be applied during checkout.

 

What is the expected delivery lead time?

Products excluding those listed under Televisions and Home Cinema:

For orders below $100, your order will be delivered within 3 working days upon order placement of products.

For orders $100 and above, placed before 2pm on Monday - Thursday excluding eve of public holidays, delivery will be next day. Orders received on the weekend may take longer as some logistics partners do not support delivery on Sunday. Please refer to the following table for delivery estimates:

Time Of Order

Estimated Delivery Date

Example

Mon – Thu

Orders before 2pm

Receive it the next working day

Order on Monday 11am, receive on Tuesday

Mon – Thu

Orders after 2pm

Receive it the 3rd working day

Order on Monday 2pm, receive on Wednesday

Fri, Eve of PH

Orders before 2pm

Receive it the next working day

Order on Thursday 11am (eve of PH), receive it on Monday

Fri – Sun, Eve of PH

Orders after 2pm

Receive it on the 3rd  working day

Order on Thursday 2pm (eve of PH), receive it on Tuesday

 

Same day delivery is only applicable for orders $100 and above during selected periods and/ or models*. Same day delivery is only applicable for orders made on Monday - Saturday, before 2pm. Please expect a phone call after placing your order for arrangement of the time of delivery.

*Same day delivery promotion period will be highlighted on homepage and/ or product page.

 

Large products (products listed under Televisions and Home Cinema):

Next day delivery may not be applicable. Please expect a phone call after placing your order for arrangement of the date of delivery.

Some condominiums may have specific delivery time slots and/ or limit deliveries. Kindly check with your condominium management for the approved time slots for delivery. Please notify your condominium management once we have confirmed the delivery date and time.

 

Where do you ship to?

Shipping is only available within Singapore. Delivery will only be made to address located on the main Singapore island, with the exclusion of restricted zones. Delivery to Sentosa island will be subject to additional charges. Where Sony is unable to deliver, we will endeavour to notify you as soon as we become aware of the restriction.

For more information, please refer to our Online Shopping FAQ
Overview

Overview

ALC-F49S 49mm Front Lens Cap

Delivery Information

Delivery Information

How much does delivery cost?

Sony offers free deliveries for orders $100 and above. For orders below $100, a standard delivery charge of $2.90 will be applied during checkout.

 

What is the expected delivery lead time?

Products excluding those listed under Televisions and Home Cinema:

For orders below $100, your order will be delivered within 3 working days upon order placement of products.

For orders $100 and above, placed before 2pm on Monday - Thursday excluding eve of public holidays, delivery will be next day. Orders received on the weekend may take longer as some logistics partners do not support delivery on Sunday. Please refer to the following table for delivery estimates:

Time Of Order

Estimated Delivery Date

Example

Mon – Thu

Orders before 2pm

Receive it the next working day

Order on Monday 11am, receive on Tuesday

Mon – Thu

Orders after 2pm

Receive it the 3rd working day

Order on Monday 2pm, receive on Wednesday

Fri, Eve of PH

Orders before 2pm

Receive it the next working day

Order on Thursday 11am (eve of PH), receive it on Monday

Fri – Sun, Eve of PH

Orders after 2pm

Receive it on the 3rd  working day

Order on Thursday 2pm (eve of PH), receive it on Tuesday

 

Same day delivery is only applicable for orders $100 and above during selected periods and/ or models*. Same day delivery is only applicable for orders made on Monday - Saturday, before 2pm. Please expect a phone call after placing your order for arrangement of the time of delivery.

*Same day delivery promotion period will be highlighted on homepage and/ or product page.

 

Large products (products listed under Televisions and Home Cinema):

Next day delivery may not be applicable. Please expect a phone call after placing your order for arrangement of the date of delivery.

Some condominiums may have specific delivery time slots and/ or limit deliveries. Kindly check with your condominium management for the approved time slots for delivery. Please notify your condominium management once we have confirmed the delivery date and time.

 

Where do you ship to?

Shipping is only available within Singapore. Delivery will only be made to address located on the main Singapore island, with the exclusion of restricted zones. Delivery to Sentosa island will be subject to additional charges. Where Sony is unable to deliver, we will endeavour to notify you as soon as we become aware of the restriction.

For more information, please refer to our Online Shopping FAQ