FULL HD/ HD READY TELEVISIONS
Discover a world of movies, TV and apps, and enjoy every moment in crystal clear picture quality. All complemented by a rich, dynamic soundtrack that brings your entertainment to life.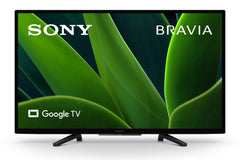 &nbsp
KD-32W830K
$606.00
1
1. Prices indicated refer to Suggested Retail Price which includes GST and may change from time to time without prior notice and/or may vary for the same product with different colours.
* For orders placed before 2pm on Monday - Thursday excluding eve of public holidays. Next day delivery may not be applicable for products listed under Televisions and Home Cinema. Please expect a phone call after placing your order for arrangement of the date of delivery. For more information, please refer to our Online Shopping FAQ
*Services availability depends on region. A part or whole of software/services installed into or accessible through the product may be changed, discontinued, removed, suspended, or terminated without notice.
$656.00